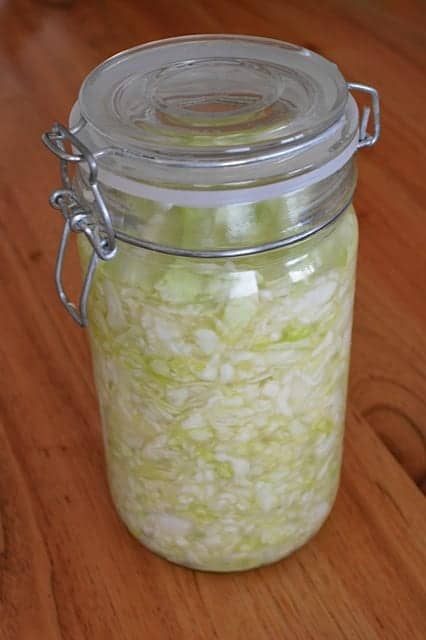 Your first fermentation should start with simplicity.  Our easy sauerkraut is a great way to add some home made, probiotic rich foods to your daily meals.  Rich in bacteria lactobacillus plantarum and actobacillus brevis amongst others, enhancing digestion, curbing inflammation and improving immune function.   In addition to the valuable lactobacillus strains your sauerkraut is rich in choline, an essential chemical needed to support the central nervous system.  Toss through your daily salad or add to your evening meal or spice up your breakfast.
Ingredients
1/2 green cabbage (basic savoy cabbage is fine)
3 tbsp sea salt
Method
Finely shred your cabbage with a sharp knife
Massage the cabbage in a large bowl with the sea salt until liquid forms and the cabbage is limp and wet.
Push down into a cleaned and sterilised glass jar.
Place a cabbage leaf on top and push down until the liquid covers the top of the cabbage.
Keep on your bench top for up to 4 days, 'burp' or open the lid periodically. The cabbage must remain covered in water.
Once the sauerkraut is to your taste, it will get a little bubbly – it should start to taste sour, place it in the fridge and store for suture use.  This will slow down the fermentation process.
The longer you leave it to ferment, the softer and more sour it will become.
Serve tossed through salads for some tang and added goodness or serve as a side with your main meal or breakfast.
To save time, make a double batch.