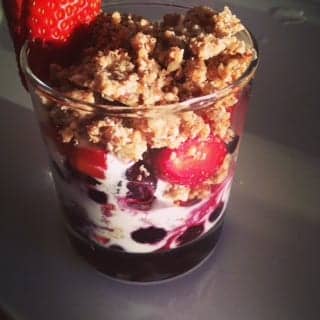 Mmmm when you feel like some berry bliss or an easy no cook breakfast fix, our coconut breakfast crumble is a perfect start to the day. Packed with anti oxidants and polyphenols when served with your favorite berries. A little higher on the carbohydrates, this option is a great post workout choice.
Ingredients
1 cup of almonds (or your favourite combo of nuts)
4 medjool dates
½ cup melted coconut oil
½ cup unsweetened shredded coconut
2 tablespoons of chia seeds
1 teaspoon of cinnamon (add more to desired taste)
Serves approx. 8
Method
Place pitted dates in food processor pulse until sticky ball starts to form
Add nuts and process until a crumble starts to form
Add shredded coconut, chia seeds, coconut oil and cinnamon. Process until combined.
Taste and add more cinnamon if desired.
Store in an airtight container in the fridge for up to a week (if it lasts that long). The recipe makes approx 380g. Serving size per person is 2 heaped dessertspoons or 45g.
Your crumble will clump slightly so you may need to break it up with clean fingers or use it as "CLUSTERS' of tasty goodness.
Serve layered with mixed berries and coconut yogurt, natural yogurt or coconut cream.
Nutritional information
Carbohydrate 24%
Protein 9%
Fats 67%
*served with ½ cup blueberries, ½ cup strawberries and 2 tablespoons natural yogurt