Join our regular timetable classes for 2 weeks trial across 11 sessions in the week.  We welcome to you come and see what program format suits you best and sample the programming structure we have to offer.
Empowering human nature through MOVE

ment
MOVE FITNESS
At our Move Fitness Salamanca Place studio we offer group fitness training classes with variety to suit everyone.  Our classes will challenge you to reach your full fitness potential, to feel and perform beyond your expectations.
We focus on functional movement patterns that are transferable and applicable to the real world. Movement patterns to make you stronger in both your daily life and your chosen sporting pursuits.
Let our MOVE Fitness team introduce you to a unique form of training combining high intensity workouts with body-weighted movements and equipment based resistance exercises in a small group fitness training environment.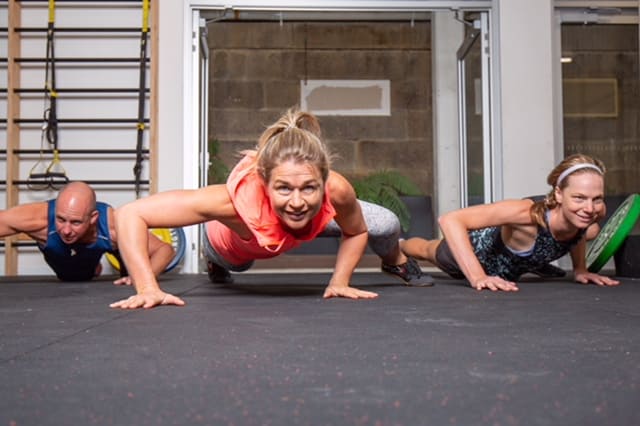 MOVE

 

Strength and conditioning
With a strong emphasis on TECHNIQUE and PROGRAMMED PROGRESSION our strength and conditioning classes are aimed at keeping you INJURY FREE while improving overall STRENGTH and POWER. A fantastic class for anyone starting out on their fitness journey or those more advanced and looking at taking their training to the next level. Our strength and conditioning classes will help build LEAN MUSCLE and improve BODY COMPOSITION.
MOVE

 
Core and METCON
A combination class designed to balance and fortify the foundation of your body, functional CORE and METCON training is all about building power, speed, strength and stabilization. This class will challenge your core and fire up your metabolism pushing the limits of your CONDITIONING and building a LEAN and TONED body composition.
MOVE
Metaburn
Our Metaburn class is designed to challenge you with high intensity, PLYOMETRIC and AGILITY based training. Working on varied work rest timing structures these work outs are designed to boost your metabolic system and create a LONG TERM FAT BURNING after your training session. Hard, fast all out efforts
MOVE

Cardio endurance
This class is aimed on improving our body's ability to PUSH HARDER for LONGER. A great class to increase WORK CAPACITY and CARDIO CONDITIONING combining running, cycling, rowing, skipping and body weighted exercises. This class will get your HEART RACING, BLOOD PUMPING and SWEAT POURING.
MOVE
Strength Endurance
HIGH INTENSITY TRAINING – with a focus. Everything you've come to love and expect from Move's HIIT classes, focusing on function and form you'll walk away with a deep burn and muscle pump. A great class for full body conditioning utilising a variety of equipment. You'll come away feeling like a LEAN, MEAN, SWEATY MACHINE.
Strength – Agility – Fat burn – Muscle tone – Power & speed
6 week

specialised programs
Stretch and mobility
Monday 5:30pm / Thu 1:30pm & 5:30pm
Learn how to control your most trusted tool – your own body. Our stretch classes combine a variety of techniques to deliver a systemised, progressive and measurable approach to mobility training. A program designed to improve the body's capacity to CONTROL MOVEMENT, improve POSTURE and drastically lower your potential for INJURY. Train to be FLEXIBLE Train to be STRONG Train to be BULLETPROOF!
More than Muscle – Strength program
Wednesday 6pm
6 weeks strength training programs at MOVE that trains both PHYSICAL AND MENTAL pathways for achievement, SELF GROWTH and CONFIDENCE. Lindsay is passionate about strength training and works with a small group in a private gym setting, increasing  confidence in your ability to improve your health and well being with both physical and mental strength. Strength training contrary to popular belief is not just about muscle. There is so much more to be gained.
Book a class if you have an existing membership