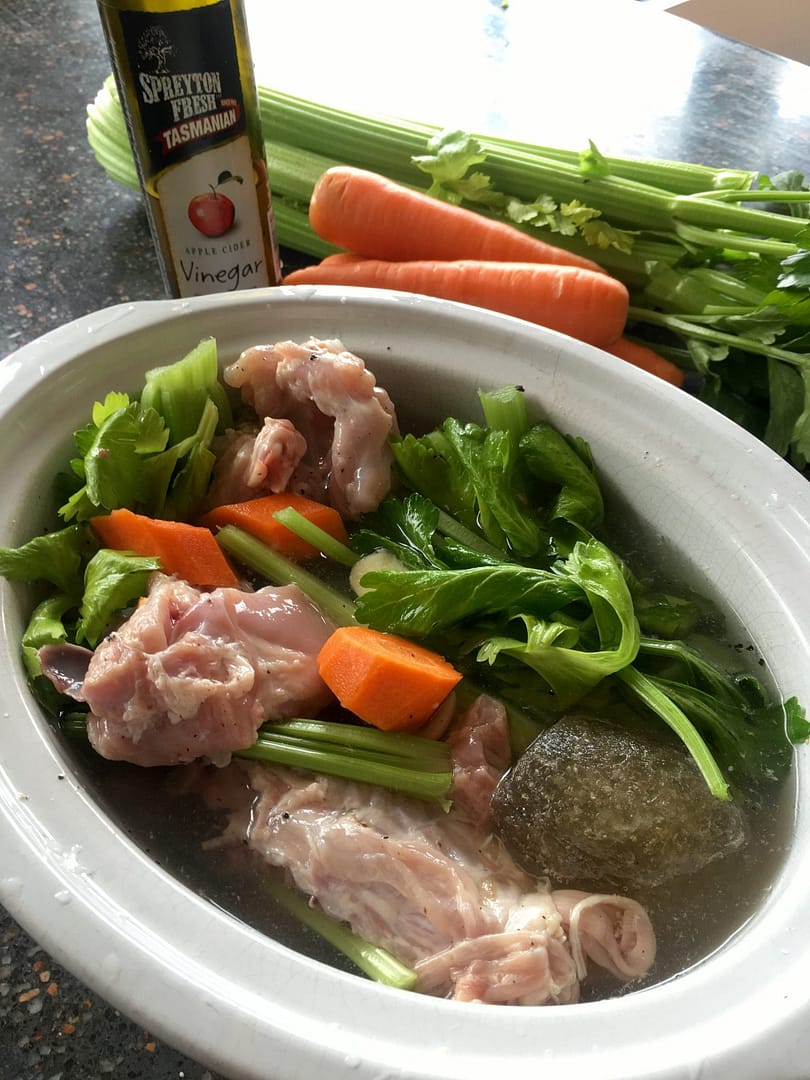 Bone broth is an incredibly nutritious food. It is an excellent source of minerals that help to support and boost the immune system. Rich in nutrients such as gelatine and glycine it can help protect the gut lining and improve digestion. Bone broth also supports hair, skin, nails and connective tissue due to its high collagen content.
Ingredients
1 large free range chicken
6 to 8 chicken wings (optional)
1 large onion roughly chopped
2 Carrots pealed and roughly chopped
2 Stalks of celery roughly chopped
3 to 4 cloves of garlic
2 to 3 tablespoons of apple cider vinegar
2 teaspoons of pink himalayan rock salt
4 kaffir lime leaves
Water
Method
Place all ingredients in slow cooker (except lime leaves)
Add enough water to cover the chicken and vegetables
Allow to cook for 10 to 16 hours, the longer the better
After cooking allow to cool then drain liquid off. Place broth in the fridge over night.
Over night the broth would have formed a thick layer of fat which will be sitting on top of the broth, scrap off carefully and discard.
Strain cold broth through muslin to strain off any boney bits that may still be left
Reheat broth over a low heat adding the kaffir lime leaves, simmer for 15 min.
Makes approximately 8 cups of broth
Broth can be used as a stock added to soups or other dishes or drunk by its self. It can be bagged into portion sized serves and frozen for up to 3 months.