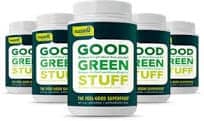 Nuzest Good Green Stuff
GLUTEN FREE   DAIRY FREE   GMO FREE
Complete nutritional support in 1 daily serve
Good Green Stuff is a super-blend of nutrient-rich greens, fruits, vegetables and berries offering a leading blend of nutrients to support a health body and mind in a hectic lifestyle. With over 70+ high quality nutrients in one product you can relax knowing your covered for all your essential nutrients at once.
Healthy Mind – B vitamins and essential nutrients and herbs to feed your mind and help cope with stress.
Digestive support – packed with digestive enzymes, prebiotics, probiotics yet gentle on the stomach.
Immune support – Health digestion and additional nutrients help support your immune system, for optimal health benefit.
Antioxidant support – Packed with greens and high quality ingredients to support your detox system and boost your body's ability to tackle today's world head on.
Energy boosting – Jam packed with high quality B vitamins, CoQ10 and countless nutrients and phytonutrients. Good Green Stuff will boost your energy levels, increase your metabolism, enhance fat break down and leave you glowing from the inside out.