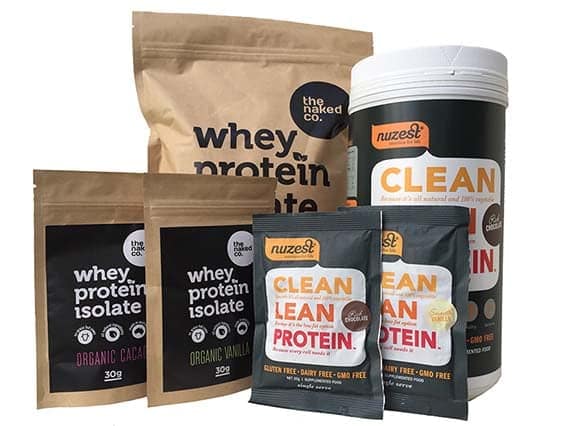 High quality protein powders
to support your
nutritional needs
Nuzest Clean Lean Protein
DAIRY FREE   GMO FREE   GLUTEN FREE
The allergen-free and 100% natural vegetable protein that's great for every-body
. High in protein yet low in carbs and fat, NUZEST pea protein supports healthy weight management and helps your body recover faster, so you can get back doing the things you love.
Naked Co Whey Protein Isolate
GRASS FED COWS   GMO FREE  GLUTEN FREE
Super clean Whey protein isolate from New Zealand grass fed cows. Don't be fooled, all whey protein is not created equal. The Naked Co. Whey Protein Isolate "is manufactured by cross flow micro-filtration and ultra-filtration at a low temperature and is free from acid processing, leaving a high quality undenatured protein which is easily digested, low in fat, low in carbs, high in protein and has an excellent nutritive value. " – thenakedco.com.au
Benefit from supplementing with high quality protein powders
Easy to digest – Exercise, low stomach acid, high stress and low calorie diets can all lead to sluggish digestion. Our high quality proteins will support your nutritional needs in times of physical stress and while your working on improving your digestion.
Look and Feel your best – Insufficient protein can lead to muscle wastage, lethargy, dry skin, poor digestion and irritability. Consuming more protein and less carbs triggers the production of dopamine without the insulin rush. This helps balance your blood sugar levels, leaving you less irritable and in a better mood.
Healthy weight management – High in protein yet low in fat, sugar and carbs. Quality protein can help stabilise your blood sugars.
Healthy brain – Essential amino acids fully absorbed in digestion are essential to good mental health. Fuel your brain with superior products for good neurotransmitter production.
Delicious and easy – Smooth texture, great taste, easy to use. Shake and GO or include in your nutritious real food recipes.